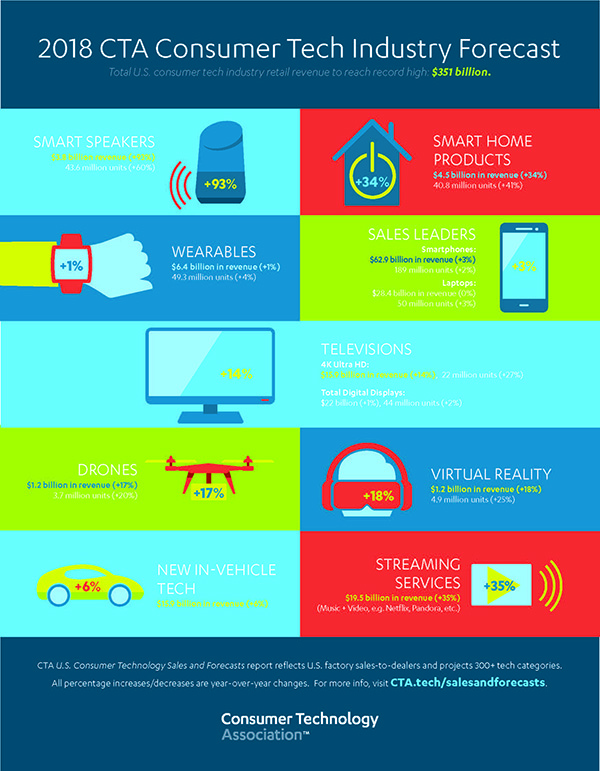 As communicated by the Consumer Technology Association in the "U.S. Consumer Technology Sales and Forecasts" report, overall the U.S. sales of connected devices are projected to reach 715 million units in 2018 – a 6.6 percent increase year-over-year. Specific products projected to contribute significantly to this growth include smart home, smart speakers, virtual reality, drones and wearables. As regards to the smart home, CTA expects sales in the category (including smart thermostats, smart smoke and carbon monoxide detectors, IP/Wi-Fi cameras, smart locks and doorbells, smart home systems, and smart switches, dimmers and outlets) to reach 40.8 million units in 2018 (41 percent increase over 2017), earning $4.5 billion (34 percent increase). Besides, coming off of a tremendous 2017 holiday season, voice-controlled smart speakers, including Amazon Echo and Google Home, are going gangbusters. Unit sales increased 279 percent in 2017, and CTA projects 2018 unit sales will reach 43.6 million units (60 percent increase) and earn $3.8 billion in revenue (93 percent growth).
Considering the virtual reality, the popularity among gamers and an increasingly competitive market continue to drive growth for VR/AR headsets and eyewear, with unit shipments projected to grow to 4.9 million units this year (25 percent increase) tallying $1.2 billion in revenues (18 percent increase). As regards to the drones, the total sales are expected to reach record highs of 3.7 million units in 2018 (20 percent increase) earning $1.2 billion in revenue (17 percent increase).
Finally, the wearables. The total health, fitness and sports tech market – including fitness activity trackers, other health and fitness devices, hearables, over-the-counter hearing devices, smartwatches and sports tech (such as a smart basketballs or baseball bats) – is expected to reach sales of 49.3 million units in 2018 (4 percent increase) and earn $6.4 billion (1 percent increase).